Our Mission
Our mission at Evolve Fitness Clearwater is to empower people with movement, mindset, nutrition, knowledge, and mentorship so that they can reclaim and enhance their health and wellness.
Tommy is a pain and posture expert specializing in biomechanics. Over the years, Tommy has built and managed two gyms and has owned and managed a few successful gyms of his own. With a long list of certifications, Tommy is a lifetime student of health and fitness. He has an intense passion for coaching and excels at building a stronger more confident individual.
Certifications: certified neurosomatic therapist licensed massage therapist NASM certified personal trainer NASM corrective exercise specialist Opex assessment Opex program design Opex life coaching sports performance coach level 1 from USAW CrossFit level 1 CrossFit level 2 CrossFit endurance CrossFit gymnastics CrossFit olympic weightlifting CrossFit mobility CrossFit striking modern army combatives instructor program – level 2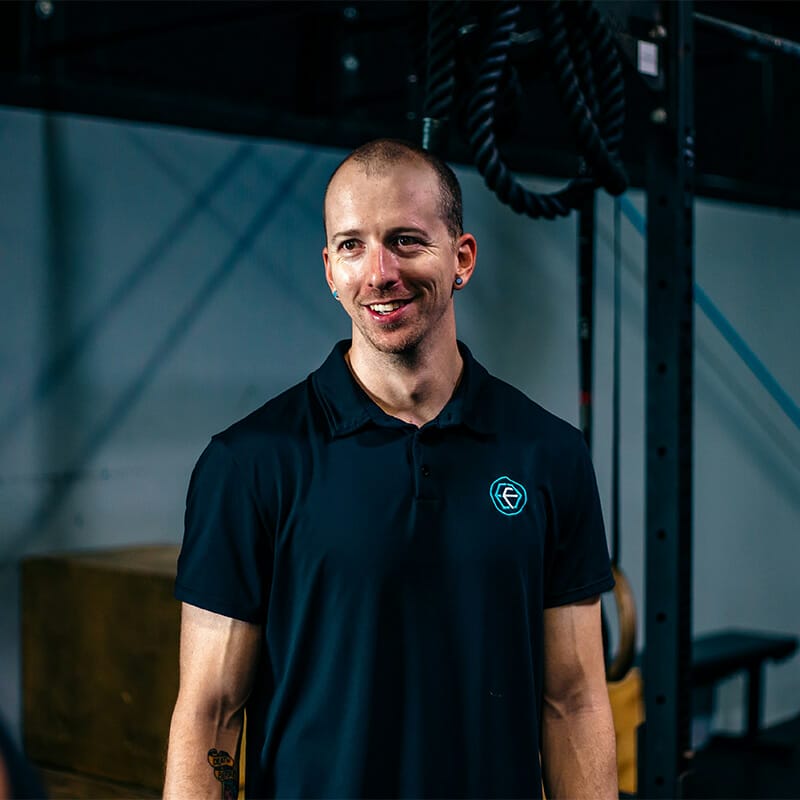 Coach John started as an A.C.E. Certified personal trainer in 2018. He has since expanded his knowledge to become a functional training specialist, a pain-free performance specialist, a group fitness instructor, as well as a pre and post-natal coach. Throughout his fitness journey he has personally dabbled in a number of different training styles including long-distance running, bodybuilding, and functional fitness. His number one passion is being able to share his knowledge with others so that they can live life to the fullest pain-free no matter what they do!
Katie is our in-house nutrition expert. She holds a master's degree in nutrition and human performance. She is also a certified pre- and postnatal coach, pain-free performance specialist and a CF-L1 trainer. In addition to heading up our nutrition program, Katie is a personal trainer and coaches group classes. Her specialties are helping beginners start their fitness journey, teaching gymnastics movements, and helping individuals move without pain- whether that is overcoming chronic pain or recovering from injury.
Jon Rivard (aka Coach Jr) achieved his NASM Personal Trainer Certification in 2021 and has been striving to become the best of the best every day since. Coaching became a passion that manifested from his own struggle with living an unhealthy life. He is intimately familiar with the pain and struggle associated with loss of function/ability due to both medical diagnoses and long hours at a desk. Now, he has found a home coaching at evolve and is excited to help others through their own journey with health, fitness, and weight management. Jr graduated from Notre Dame in 2012 with a degree in finance and built a career for himself as a commercial mortgage underwriter in NYC. While working through a series of medical issues stemming from a ruptured spleen, health/weight struggles, and general melancholy he decided to cut ties with his finance career/lifestyle and focus on his health. He moved to Florida in February/March 2020, and found a surgeon at the Cleveland clinic to help end his cycle of surgeries. While pre-habilitating his body before the surgery, Jr found his new career path. Rebuilding his strength after the surgery, studying for his personal training certification, and building his coaching experience confirmed he's made the right choice.
Chris is a NASM-certified personal trainer with a focus on helping clients reclaim their health, build their confidence, and live pain-free.
Over the course of his personal fitness journey, Chris was able to lose 70 pounds while also building muscle, increasing mobility, and developing a better relationship with food. This experience served as an inspiration for him to leave his sales career behind so he could coach others to transform their lives.
He is a CrossFit L-1 Trainer and USA Weightlifting L-1 Coach who is currently working through his NASM-CES (Corrective Exercise Specialist) certification. A proper mindset has played a vital role in his own journey toward better health. He is passionate about helping others overcome their limiting beliefs about exercise, eating habits, and self-image.
His philosophy on health can be summarized into a few short sentences: Look good. Feel Great. Move Well. Love Life!
Allison has a bachelors degree in Exercise Science from USF and is working on a nutrition certification through NASM. She has a passion for helping people build strength and find confidence in themselves through exercise and nutrition.
Allison has first hand experience in reframing her negative relationship with food, exercise, and body image, into a relationship of peace and understanding. She strives to teach others the importance of cultivating a positive relationship with all three and the effect it can have on mental health and longevity.
Exercise is medicine, so let's get healthy.
Get started
Click the button below to book a Discovery Call. See if Evolve Fitness Clearwater is right for you.
Book Your Discovery Call